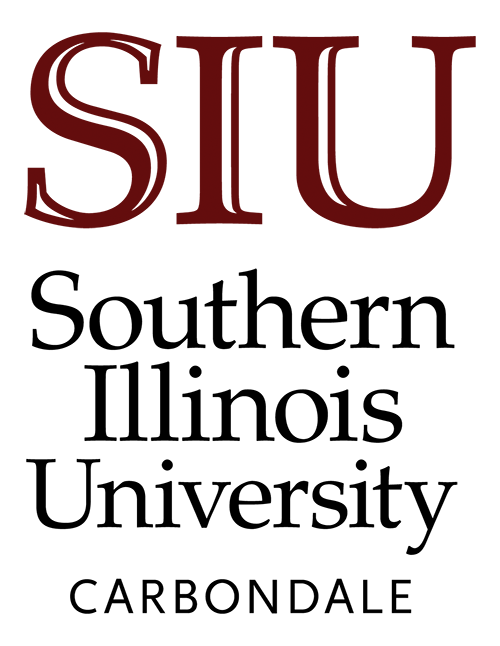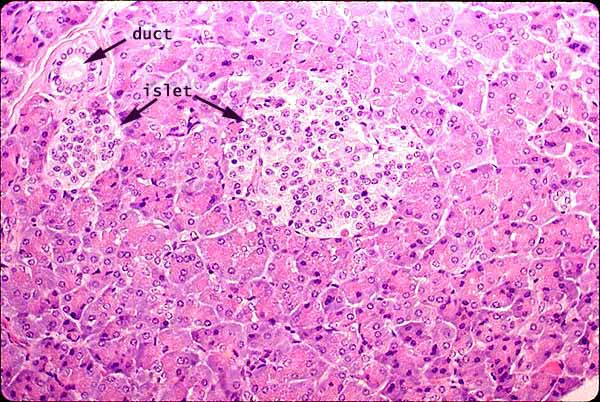 Notes
The pancreas is a compound, acinar, serous , exocrine gland with islets of endocrine cells.

With the exception of the prominent duct at upper left and the two pale islets of Langerhans, this view is occupied by secretory acini. Each acinus looks like a solid lump containing several cells, because the plane of section only rarely cuts neatly across the very small acinar lumen.

Note that each individual acinus is more acidophilic toward its center (pink, in this H&E stain), where the secretory vesicles are stored in the apical ends of acinar cells. Toward the periphery, each acinus is more basophilic (purple) where rough endoplasmic reticulum is concentrated basally in the acinar cells. At the center of a pancreatic acinus is often a centroacinar cell, the initial cell, the initial cell of the intercalated duct which drains the acinus.

Individual acini are separated from one another by thin, weakly-stained crevices which contain the capillaries and connective tissue of the glandular stroma. Stromal fibroblasts and endothelial cells appear as small, dense, irregular nuclei scattered between the acini. Otherwise, apart from the labelled duct, glandular stroma is not apparent in this image.
---
Related examples:
---
Comments and questions: dgking@siu.edu

SIUC / School of Medicine / Anatomy / David King

https://histology.siu.edu/erg/GI189b.htm
Last updated: 14 May 2022 / dgk